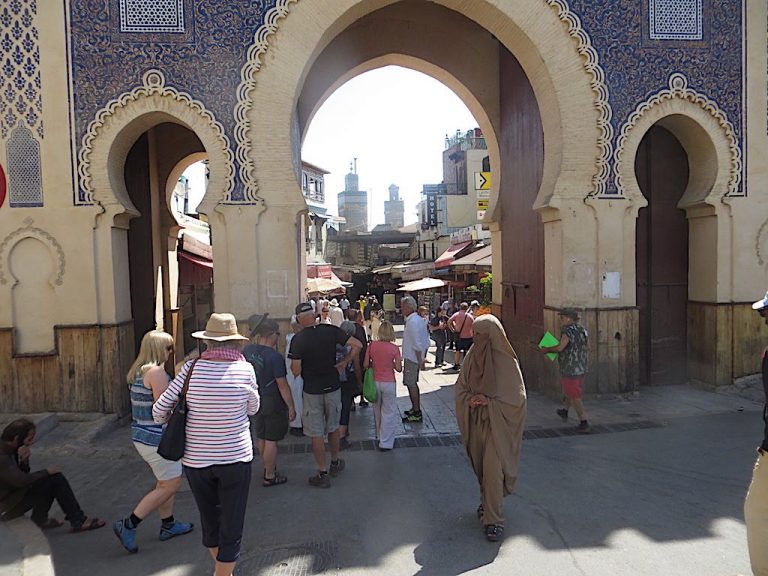 Two Continents - From Tarifa to Fés
With walks & hikes in Spain and Morocco
"The sights were amazing and the people were warm and delightful. You put together an experience for us that will shape our thinking for years to come."
In Greek mythology, Hercules slayed the giant Anteus and married his beautiful widow Tingis. In celebration, Hercules pulled Europe and Africa apart using the peaks of Jebel -Tarif (Gibraltar) and Jebel – Musa for handgrips. Ever after, these mountains have been known as the Pillars of Hercules. 
The Pillars and the contrasting cultures of Europe and Africa are features of  our Two Continents Tarifa to Fés walking adventure. The first two nights are spent in Tarifa, with the first walk high above the Straights of Gibraltar. You then cross to Africa for a coastal walk with great views back to Europe and then continue to Chefchaouen, surely the prettiest and most magical town in Morocco. You stay for three nights in an amazing riad in the medina with walks in the Rif mountains and villages. The last two nights are spent in Fés, the oldest and most interesting of the 'imperial' cities in Morocco. From Fés there are continental flight connections, or the option to return to Tarifa by rail and ferry (as reviewed by Michael Portillo in this BBC travel docucumentary).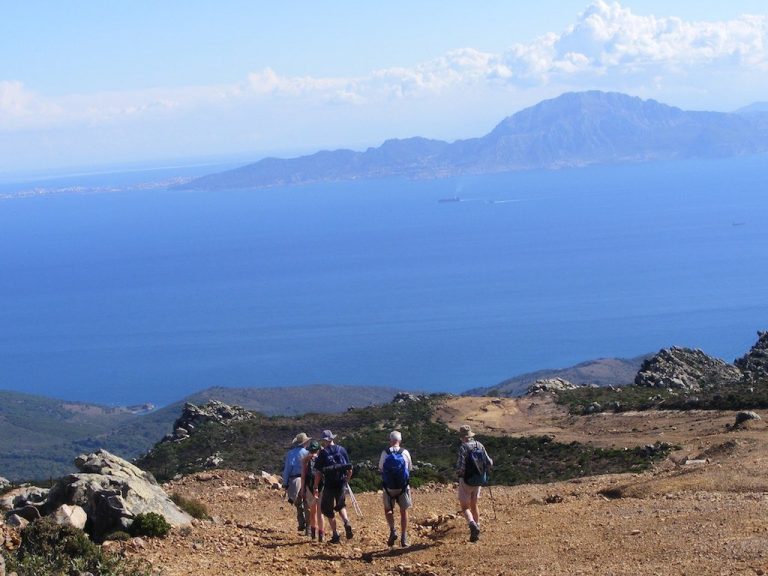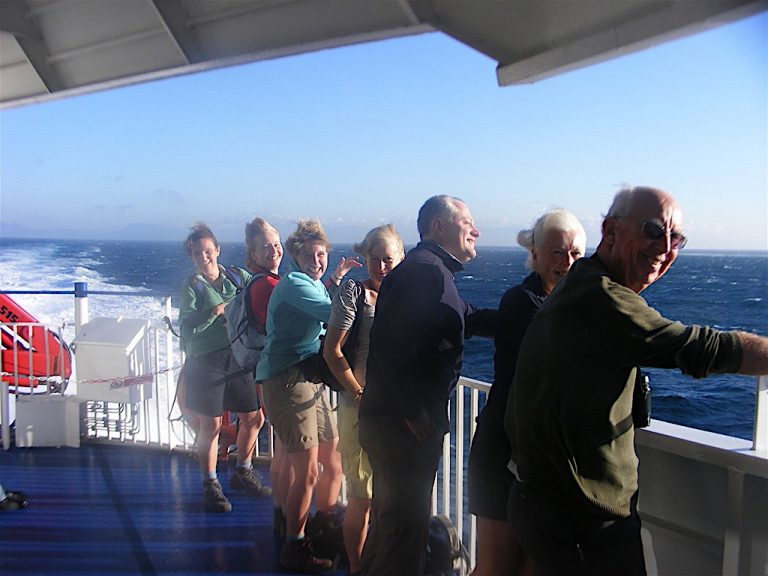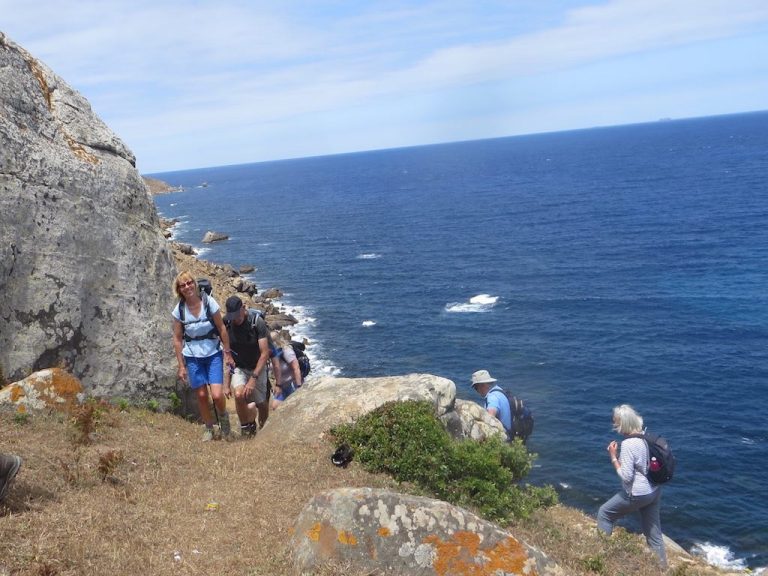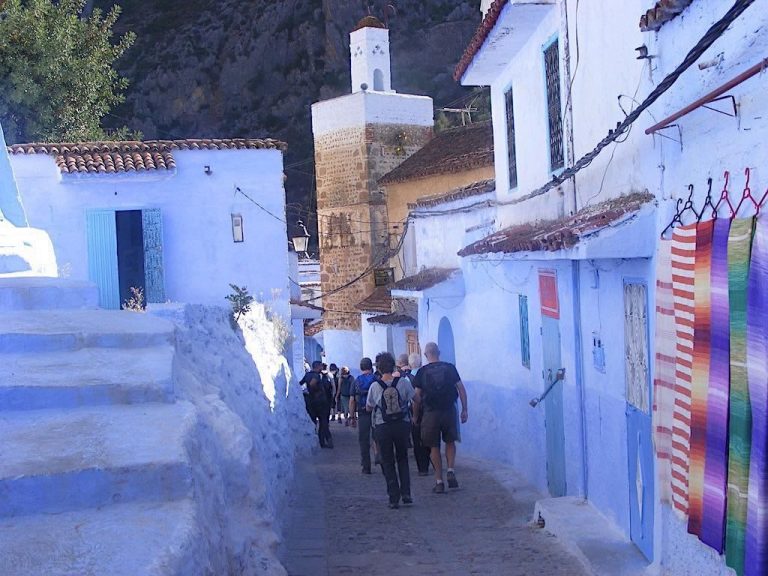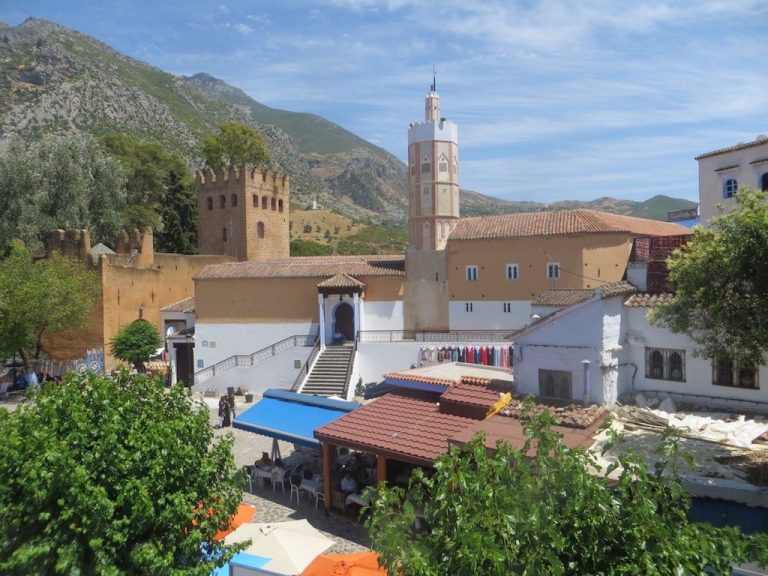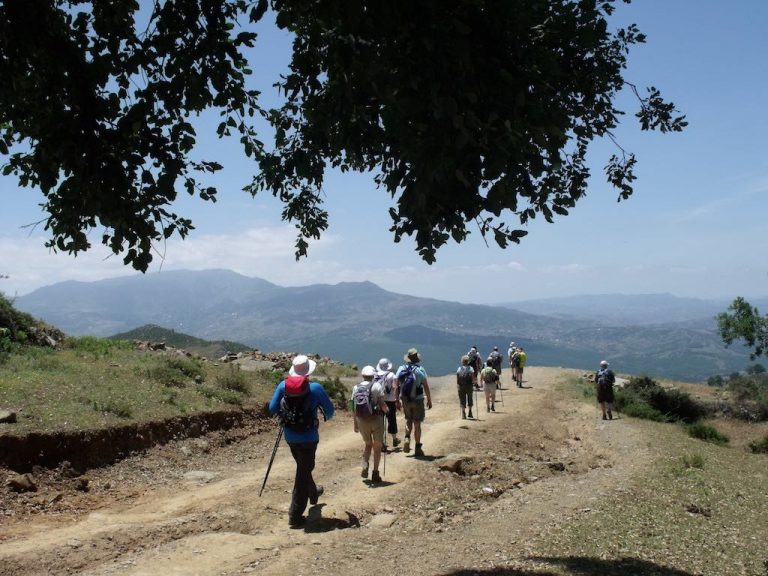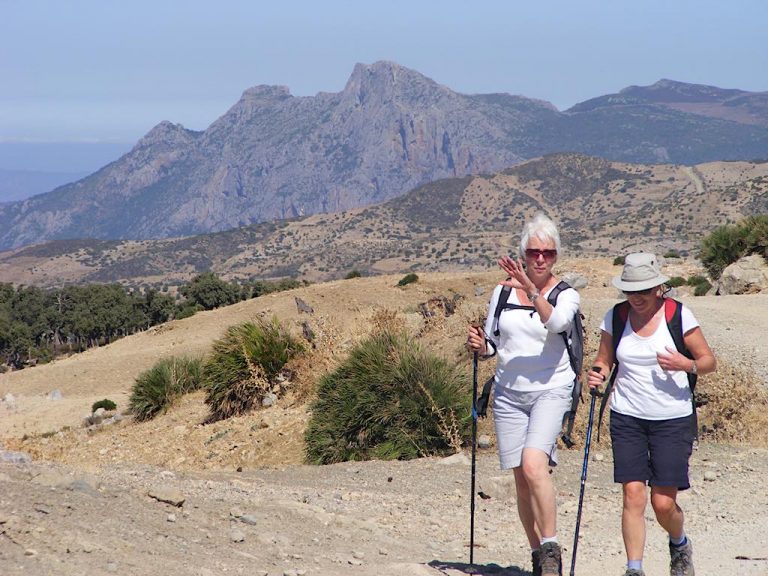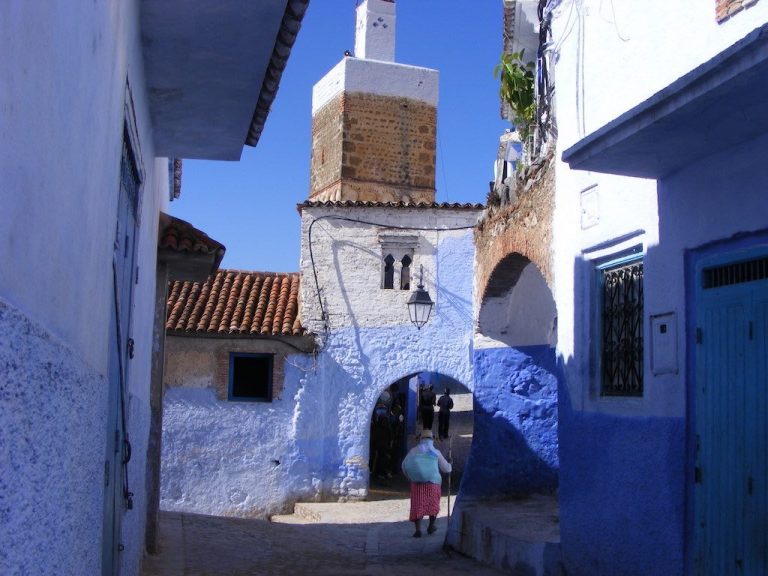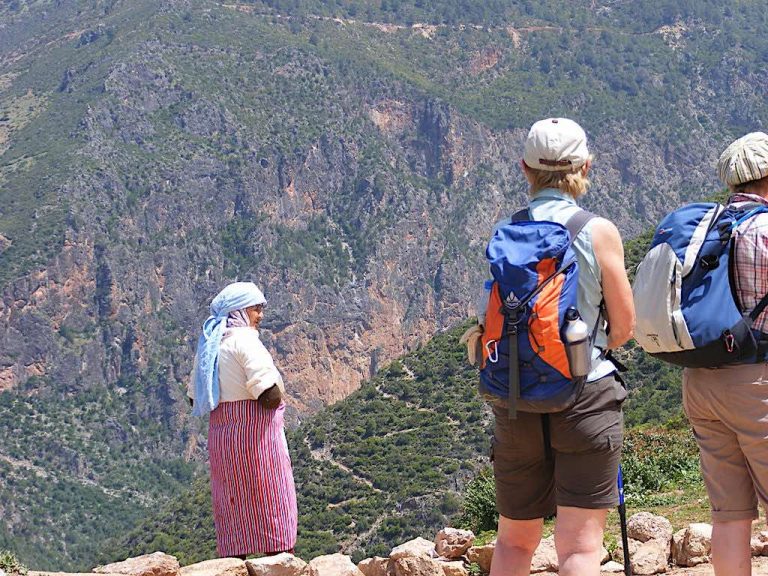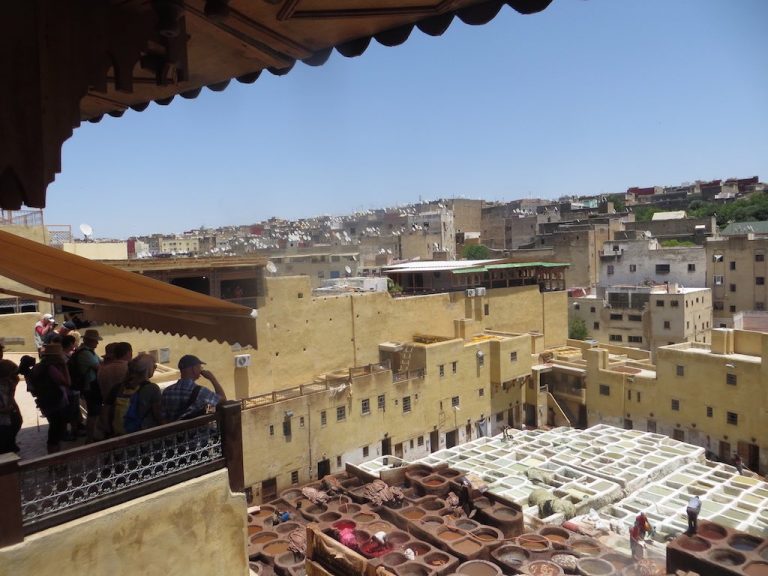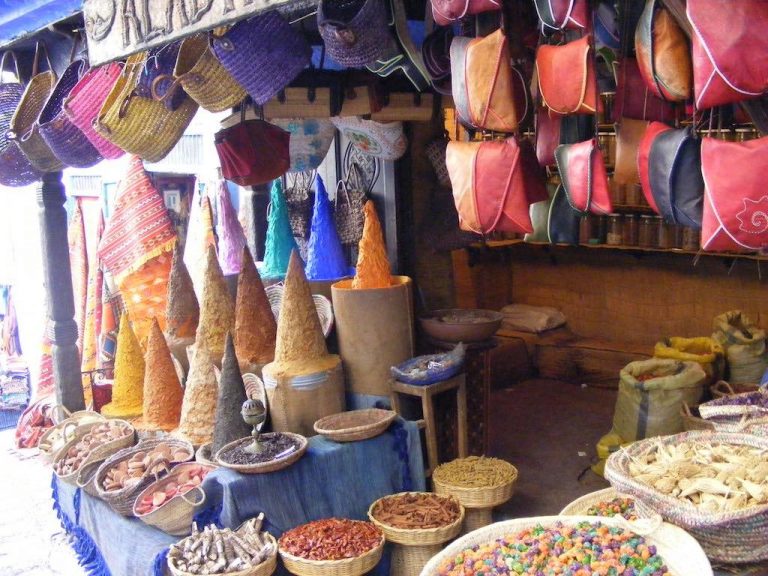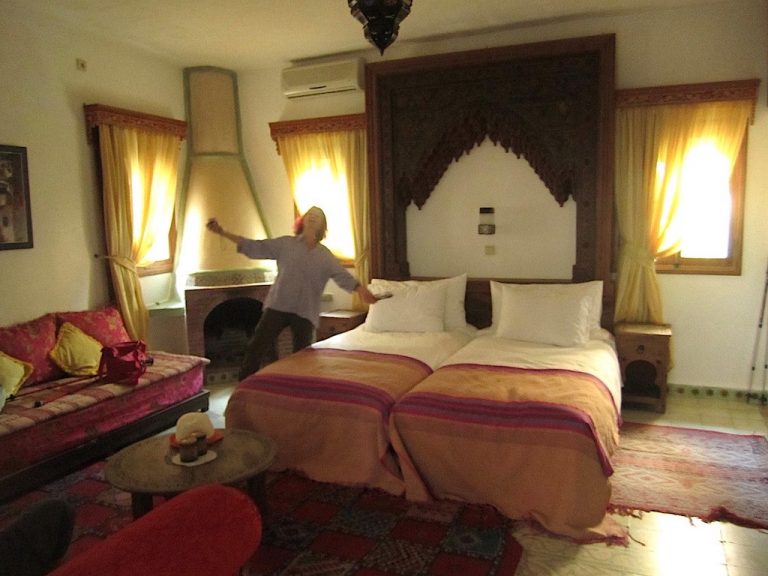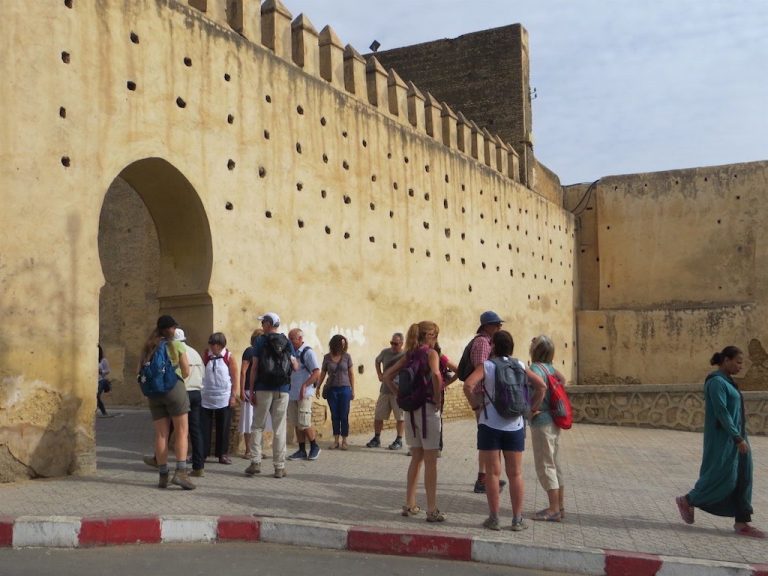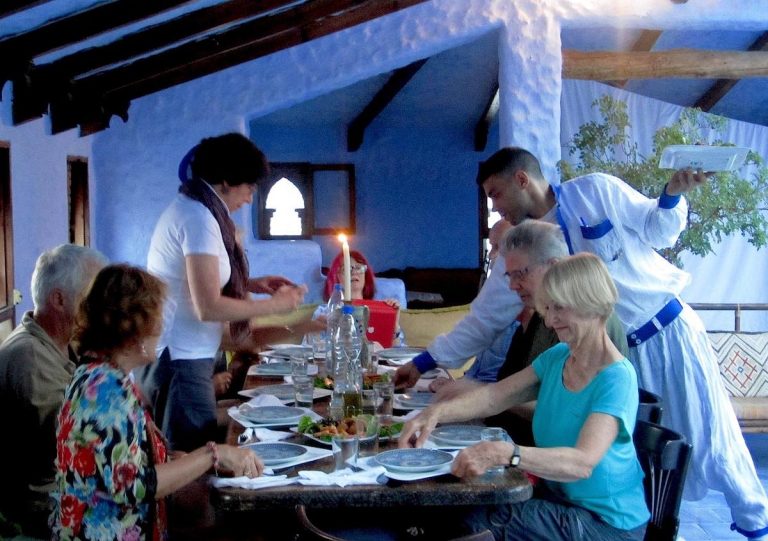 Tarifa to Fés – Itinerary & Walks
Day 1 – Arrival day – Tarifa
The walking holiday starts in Tarifa where we stay for two nights. The town is the most southerly point in Europe and an ideal location for the start of our adventure across to Africa. Our hotel is built within the fortified walls of this ancient Arabic coastal town and just a stones throw from the harbour and ferry across to Tangiers.
Day 2 – Above the Straights
Our first walk starts to the east of Tarifa. We take a pretty, shady path that follows the Rio de los Mujeres through the cork oaks of Los Alcornocales and up to the ridge of Bujeo. Here we have a picnic lunch with far reaching views across the Straights to Jebel Musa and, on a fine day, the Rif mountains beyond. The walk along the ridge is easy and the descent to El Bujeo is gentle . Walking time 3 or 5 Hour
s
Day 3 – Across to Africa
From Tarifa you take the fast ferry to Tangier. Everything is so different but modern Tangier has an unexpected affluence. Your walk to Cape Spartel starts in the pine forests to the west of the city and close to the King's summer palace. It is a delightful coastal walk with great views across to Cape Trafalgar, scene of the most famous of all sea battles (1805) . After lunch at Cape Spartel you transfer by road to Chefchaouen where we stay for three nights. Walking time 3 Hours.
Day 4 – Back in Time
After a breakfast of fresh orange, crepes and honey your walk takes you through the east gate of the medina and back into the past. As you pass through countryside you see fully laden donkeys heading into market and Berber ladies tending the pastures, sights that have changed little since medieval times. For lunch you will stop for a traditional meal in a Berber village on the south side of Jebel Tissouka. You can then choose to continue the circular walk back to Chaouen or return by 4×4. Walking time 5 or 3 Hours.
Day 5 – A day in 'Chaouen '
Chefchaouen is one of the most beautiful towns of Morocco and hangs like a crescent from the twin horns of Jebel Tisouka (2,050m) and Jebel Megou (1,616m). The medina, a mass of red tiled roofs crisp white and blue washed walls is a precious 15th century relic from the civilision of al -Andalus. Our lovelyl accommodation within the medina is a masterpiece of Moroccan interior design and a great place to stay in this unique, colorful and friendly  'blue' town. The souk and bazaars are full of enticing hand made goods and there is a photgraphic 'gem' at every turn of the eye. A day to explore, relax and enjoy.
Day 6 – Chaouen to Fes
The journey from Chaouen to Fes by road is just over 4 hours. On route we break to journey for our final rural walk through the wooded southern slopes of the Rif, followed by lunch in a traditional rural house. This is good preparation before our arrival into Fes regarded by many as one of the most traditional cities in Morocco. We stay for our last two nights in a lovely riad in the centre of the old medina (Fes el-Bali).
Day 7 – Exploring Fes
The old medina can be initially mind boggling and overwhelming to the unsuspecting visitor. It is home to around 150,00 people and has not significantly changed for a 1,000 years. Once you adjust to the scale and pace of the medina, it reveals it's charms in most unexpected ways. Our escorted walking tour starts from our hotel, exploring and seeking out the very best parts of this huge walled medieval city. The tour can take from 2 to 4 hours depending on distractions and includes a break for a tranquil and traditional Fassi lunch. Free time to shop and explore the medina close to the to your Riad.
Day 8 – Farewells and onward transfers  to Fes airport for flights to the UK or onward travel in Morocco or return by train to Tangier and Spain (See notes on travel and transport below). 
The first two nights are spent in Tarifa in a small family run hotel built within the fortified walls of the old town. The location close to the harbour is perfect and the rooms are all very comfortable with double/twin beds with en-suite facilities The next three nights are spent in a stunning riad in the centre of the medina in Chefchaouen. All the rooms have great character with double/twin beds and ensuite facilities. The last two nights are spent in Fés in a delightful riad within the medina.
Flights are not included allowing guests to fly out from their most convenient local airport and/or travel prior to meeting up in Spain. The holiday starts in Tarifa which has direct bus services from Gibaltar, Malaga and Seville, all of which have international flight services. The holiday provisions include all travel costs from Tarifa to Fés including the Tarifa to Tangiers  ferry. The holiday ends in Morocco and includes a transfers from the old city to Fés airport. From here there are currently flights back to Europe including Ryanair services to London (Stanstead) and to Malaga. Or if you have the time, we can also arrange  at cost for you to travel back to Tarifa via Tangier by high speed train and ferry.

Spring 2024
Sunday 19 – 26 May
Cost
£795 per person (two guests sharing double/twin rooms)*
*Add £175 per person for single occupancy rooms.
What we include
Seven nights accommodation in double/twin rooms with en-suite rooms
Breakfasts.
 Main meal of the day (excluding rest day)
Guided walks with transfers to trail heads
Tarifa to Tangiers ferry
Luggage transfers
Airport transfers to Fés city to airport (see note on Travel & Transport)
"I would like to thank you once more for a truly wonderful experience we had for the entire duration of our trip;  We loved our authentic and traditional accommodation, each with its own particular splendours; the sights; the friendliness and knowledge of our guides; food – and the company of like-
minded people.  I have been wanting to
do this particular journey with Spanish Steps for some years, and I am pleased that it finally came to pass and that I have come across and chosen such a fine organisation"   Sabine & Mervyn (Bangor NI)"
"I very much enjoyed the holiday, the walks, the food and the company too. What a lovely group of people! I really enjoyed the Moroccan food (and wine!) and intend to find some recipes to try out on my family. Fez was such a contrast to Chefchaouen & Tangier. I really do appreciate your efforts to make your holidays such a wonderful experience, enjoying comfortable accommodation and delicious food. I had a really great time and hope to be back to try another Spanish-Steps special in the future" Frances (Southampton)
"Many thanks for the wonderful holiday" I enjoyed every minute of every
day, especially the company of yourself and the others. Granada and Fes were the highlights for me, but of course everything in between was awesome as well. Your itinerary is a fantastic insight into these beautiful countries and all the "locals" we met, especially Abdeslam, were so passionate and
hospitable. Truly memorable.I have already recommended Spanish Steps to many and will continue to do so"  Janelle (NSW Australia)