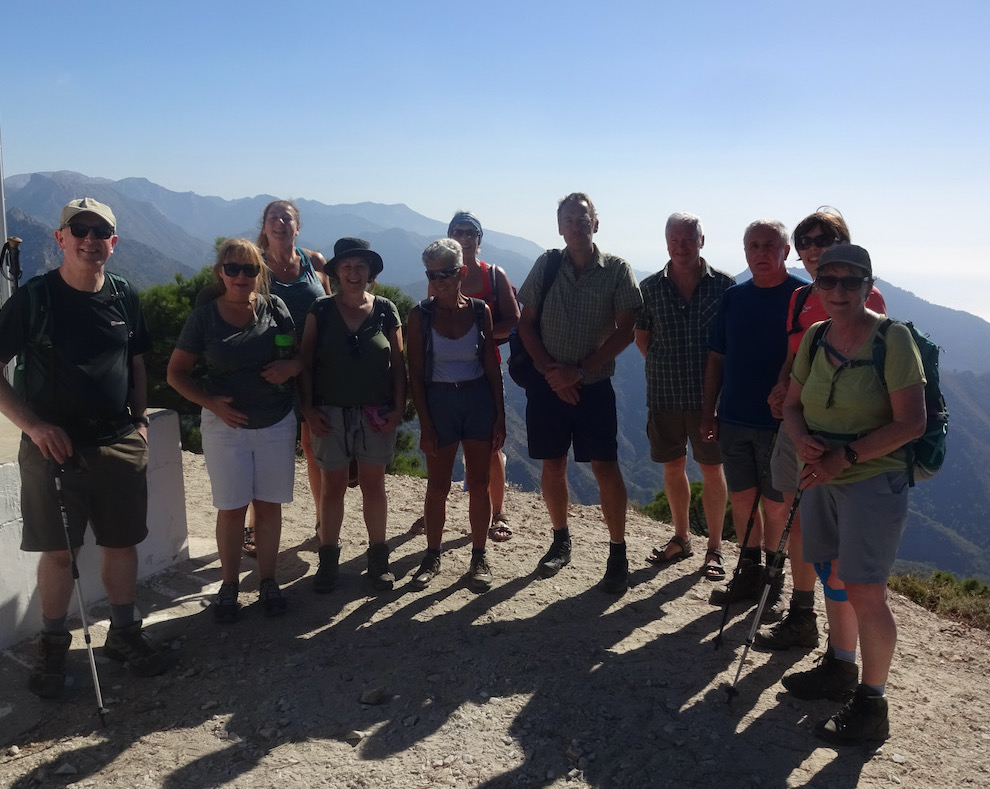 Cómpeta Based walking holiday
Guided walks through the mountains and white villages of the Axarquia 
"So many thanks for a really wonderful holiday. We had such a great time and cannot thank you enough for your great hospitality. It is a holiday we will never forget"
Spanish Steps – Cómpeta Based walking holiday
Cómpeta is a thriving  'pueblo blanco' nestling under the Sierras Almijara and Tejeda, just 12 miles from the Mediterranean and an hour by road from Malaga airport. The south facing slopes enjoy one of the sunniest climates in Europe and provide wonderful and varied opportunities for walking for many months of the year. This unique pueblo has been our base in Spain for over 20 years and Spanish Steps is very much a part of the local Spanish community.

The program for our Competa walking holidays include five guided walks plus a rest day. We have a great variety of walking routes, some start from the house and some involve short road transfers using our own 4×4 vehicles. Walking times are normally around 5 hours but there is never any rush and there are no route marches or dangerous paths. Accommodation is in our own Spanish Steps town house or the Posada del Cani  close to the main plaza in Cómpeta. Meals throughout the week are taken at a variety of our favourite local restaurants and excellent full breakfasts are provided in the plaza – al fresco. Transfers from and back to Malaga airport are provided at specified times.
Itinerary & Walks – Cómpeta walking Holiday
Day 1 – Arrival day
The road transfer from Malaga airport to Cómpeta takes about an hour. Time to settle into the house, explore the pueblo and perhaps some tapas or a siesta for those that made an early start. In the evening we meet on the roof terace for welcome drinks and a chance to discuss the program for the week. This is followed by dinner in one of the excellent restaurants in the Plaza Almijara which is also the venue for our breakfasts.
Day 2 – Walking over lemons
Our first circular walk is about six miles but we will experience all the types of terrain we will encounter on later walks. Which ever route we decide to take there will be great views of views of La Maroma, the highest mountain in our sierras plus eastern peaks, sweeping down to the Meditteranean. After a late lunch in Canillas de Albaida, we return on a pleasant level path back to Cómpeta. Walking time ±5 Hours
Day 3 – Into the sierras
A short transfer takes us up to the Puerto Collado and our first spectacular view of the Sierra Almijara sweeping down to the coast. After level walking from the Casa de La Mina, a steady climb takes us up to the centuries old path linking Cómpeta to Granada. We picnic at the ruin Venta Pradillas with great views to sea and, on a clear day, the African coast. We continue on the path around La Mina peak and then descend gently to Cómpeta and the coolest cerveca of the week. Walking time ± 5 Hours
Day 4 – White villages
The walk starts in Salares one of the oldest and prettiest of our pueblos blancos. The route leaves the village over a Roman bridge and takes a gentle river path up and around the base of La Maroma, at over 2,000 metres the highst peak in our sierras. The white villages constantly appear and disappear before we drop down to Sedella for drinks and a traditional travellers bandeja lunch. Walking time ± 5 Hours
Day 5 – Rest Day
Cómpeta is a very pleasant place to just 'hang out' with interesting shops, tapas bars, local swimming pool or perhaps a stroll to Canillas. For the more energetic, a self guided walk or a trip to the beach may be considered. The local bus is a pleasant 30 minutes experience and co-incides with the large weekly travelling market at Torre del Mar.
Day 6 – The abandoned village
This remote circular walk starts with a steady climb out of a valley but the effort is well worth it. The views up to the sierras and down to the Mediterranean are spectacular at every turn. For lunch we stop at the once adandoned village of El Acebuchal now brought back to life by Antonio and his enterprising family in a spectacular fashion. Walking time ± 5 Hours
Day 7 – Streams and summits
This last, circular walk explores the beautiful valley of the Cueva de Mielero (Cave of the Honey Maker) There are four easy stream crossings as we make our way up this remote 'hidden' valley. Once we have made our height, we have the choice of a gentle descent or climb to the summit of Cerro Verde. Both options end back at the stream, a truly delightful place  to pause for drinks and perhaps dabble the feet before transfer back to Cómpeta. Walking time ± 5 Hours
Day 8 – Departure Day
After the last breakfast in the plaza, transfers to Malaga airport. 
*We have a great choice of trails so we are able to change the program & walks  to suit prevailing conditions or walking preferences of the group.
Accommodation
Depending on availability and your room preferences, accommodation for the week will be offered in our own Spanish Steps Casa Rurale or the Posada del Cani. Both these delightful village properties are located close to the bustling Plaza Almijara, the meeting and focal point for our group holidays in Cómpeta.
Travel & More Information
Airport transfers from and back to Malaga are provided at specified times. This is normally 2.00 pm  on arrival but may be brought forward if the last arrival clears before then. On departure, our transfer normally leaves Cómpeta after breakfast  arriving at Malaga airport around 11.00 am. Transfers are normally by minibus and take just over an hour. If you have problems with flight times please get in touch to discus options.
Meals throughout the week are taken at a variety of our favourite local restaurants. Some are simple and others are sophisticated, but they all provide excellent local cuisine and great atmosphere. We have breakfasts in the Plaza and for lunch we may stop for tapas on route or take bocadillos and fruit into the hills.
Walks on our regular Cómpeta Based holidays are rated as Level 2 (see notes on walking levels on FAQ page). Our Cómpeta Peaks holidays are run once or twice a year offering a different and flexible program of walks up to Level 3.
Dates & Prices – Cómpeta walking holiday
Autumn 2023
Sunday Sept 17 – 24
Sunday Oct 1 – 8
Sunday Oct 15 – 22
Wed Nov 1- 8***
Spring 2024
Sunday March 17 – 24 (Early Bird)**
Sunday March 24 – 31 (Holy Week)
Subday April 7 – 14
Sunday April 14 – 21
Sunday May 12 – 19
Sunday June 9 – 16 (Cómpeta Peaks) ***
Cost £625 per person*
*    Plus £75   Single supplement
**   Less £30  Early Bird week   
***  Less £30 Cómpeta Peaks  and no single supplement
What is included
7 Nights accommodation in Spanish Steps village house. All rooms are double or twins*.
Main meal of the day with wine at excellent local restaurants (except on rest day).
Full cooked or continental breakfasts.
In house wine.
Guided walks led by local Spanish speaking English guides.–
4×4 vehicle transfers to trail heads.
Airport transfers from and back to Malaga airport at specified times.
*A nominal £75 supplement is charged to guests requesting single occupancy rooms.
"We just want to thank you for another wonderful week with Spanish Steps. It was terrific to lodge in your delightful casa rurale in Competa and to have such fabulous meals that you organized in the restaurants around the community. Of course, your choice of hiking routes gave us a great taste of the surrounding area, even if the rain changed some of the plans. And we can't say enough about the guiding!! How could we have asked for a better holiday? Many thanks again." Georgia and Russell (Ottawa)  March 2019
Thank you so much. … I had such a good time, and came back both physically and mentally refreshed. Your brochure is true to the last comma. I must admit I had my doubts, because it sounded too good to be true – but it exceeded my expectations. I will now recommend Spanish Steps to all my friends, so prepare for a Swedish invasion.  Ylva (Lovestad Sweden) September 2019
"I had such a good time. You are great hosts, there was delicious food and the walks were tough but awesome. Keep doing what you do. I'll be back!" Pauline (Herts) May 2019